There's nothing like an intricately designed brilliant foil embossed seal or logo that pops off a printed piece. It conveys a style and elegance like no other. Designers, brands,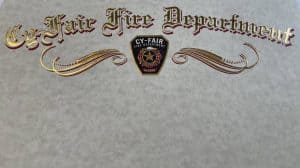 and professional organizations alike are seeking ways to make an impact. They've learned that a foil embossed seal can impress. Few things provide more wow factor than luxury foil stamping and embossing. While the impressive shimmer of a gold foil embossed seal has always been a want for those in the market for luxury print, it's becoming an even bigger trend. New technologies and skills are making the foil stamp process more accessible for both long and short-run print. The use of various foil colors and specialty papers are achieving out-of-the-box looks that leap out and grab attention. This includes a specialty multi-foil embossed seal that can be accomplished on any printed piece.
Selective customers choose Corcoran Printing for a foil embossed seal 
The U.S. Department of Homeland Security is one of the latest organizations to choose Corcoran Printing for their specialty print expertise. Upon a recommendation from the Department of State, a representative of Homeland Security contacted Corcoran Printing for the gold and silver foil stamp print and embossing of their detailed seal. Pleased with the results, they also ordered high-end foil embossed photo folders.
"We've been providing exclusive foil stamp and emboss services for more than ten years," said Bill Corcoran, owner of Corcoran Printing. "We've been in business for more than 80 years and remain focused on providing the highest level of quality and expertise. This includes a mix of the latest technology and old-school craftsmanship that just can't be replicated." A long-time, highly skilled staff and a significant investment in technology make this premier level of foil embossed seal and other specialty foil stamp print possible.
Specialty foil stamp print attracts customers from across the country and the globe 
Customers near and far have discovered that Corcoran Printing offers the skill and know-how to meet their foil stamp print and emboss needs. They have become the go-to printer for everything from an exclusive foil embossed seal to foil stamped packaging, foil embossed certificates, gold foil stamped kit covers, and foil embossed cigar rings. Here is just a sampling of Corcoran Printing's foil print customers and products.
A Texas Fired Department hired Corcoran Printing to produce specialty foil stamped and embossed certificates for achieving firefighters.
Megadolls, a New York maker of paper dolls, purchased an elite capacity pocket folder complete with specialty shimmer paper, foil stamping, and embossing. Included was a matching shimmery foil stamped envelope.
A liquor distillery in the Smokey Mountains of Tennessee ordered foil-stamped cigar rings for a personalized line of cigars for their distillery.
The Southwestern University of Nigeria found Corcoran Printing online and ordered university diplomas with a foil embossed seal.
Zaharoff, an elite fragrance maker with production facilities in Chicago and France selected Corcoran Printing to produce a die-cut, foil stamped, embossed and debossed label on specialty paper for its latest fragrance.
Foundrae, a New York jewelry designer who partnered with Corcoran Printing for unique packaging and other printed pieces. This included foil-stamped Astrological and Tenet cards, jewelry case cards, and coasters.
Mosi De Tunya, a Zimbabwe, Africa cigarmaker, found Corcoran Printing online and selected them to print foil stamped cigar bands for their brand.
An exclusive California real estate agency hired Corcoran Printing to help accomplish a more upscale look for all its printed materials. This included foil stamped business cards, foil embossed kit covers, foil stamped thank you cards, a foiled stationery package, and more.
Specialty foil embossed seal and foil stamp print retains its appeal for high-end brands
Gold fold stamping and embossing and other metallic foil print have remained popular among high-end retailers, organizations, and manufacturers looking to elevate their brand. Choosing the right print partner for your foil stamp needs is crucial to a quality product. Corcoran Printing brings decades of experience to the clients they serve. Tap to learn more about Foil Stamping and Embossing or read more about Foil Stamped Packaging.