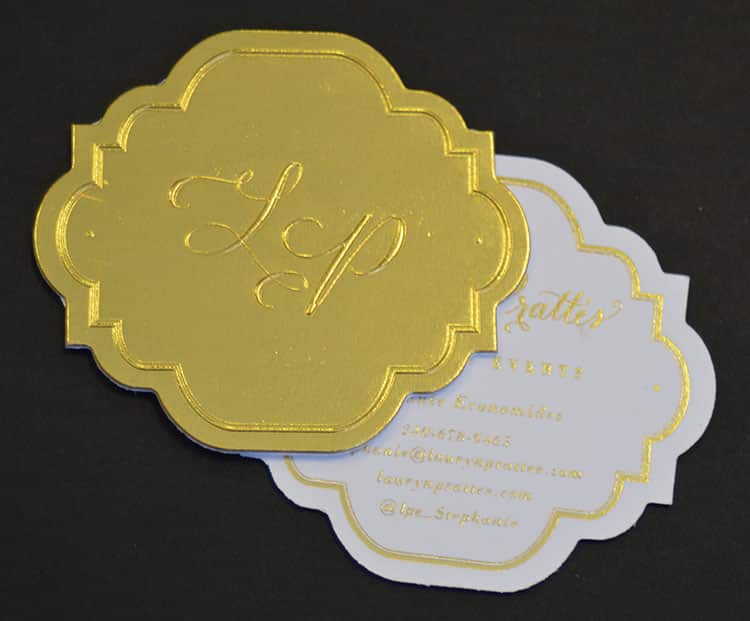 In printing, die cutting is the process used to cut a specific shape into paper stock using knife-edge cutting blades formed into a steel pattern or cutting die.  A machine presses the die into the paper to produce the desired cut. It will allow you to create an endless range of looks, from unique corners, circles and other shapes to the silhouette of an original image or even your logo. Die cutting can add depth, functionality and interest to almost any printed piece.
Unless you are using a standard design, such as a circle or a star, the die is usually customized to the piece it is creating. The die-cutting process allows for a high level of precision and unlimited design possibilities. It begins with a designer indicating the desired shape in their original design. Next the printer makes a hard copy as well as electronic proof to check the "position" of the desired shape or pattern. Once the die "position" is checked and approved, the die file is sent electronically to an experienced die maker who shapes the metal cutting and creasing rules then mounts the die to a block of wood.
There are several different types of dies. Some have a cutting depth made to cut completely through the paper stock. Perforation & scoring rules are also built into dies to accomplish the various requirements with one run through the die cutting press. This process does not fully trim the desired materials away from the original shape, but rather creates a perforated area that stays in place until you are ready to detach.
"Kiss cutting" is a form of die cutting where a very light impression cuts through just the peel off portion of labels, enabling you to remove just one label at a time, while the rest remain on the backing. Even though the die makes a clean cut through the peel off portion of the label, it merely "kisses" the liner sheet. This method of die cutting is also used for stamps.
A die can create a very precise, smooth edge that can include fine details. The Design element of die cutting can be used to create everything from standard windows in envelopes, report covers or greeting cards to much more intricate designs. Hearts, snowflakes, silhouettes, or almost any shape imaginable can be utilized in your concept as a special effect. An array of printed pieces use die cutting as a way to give them a distinctive look. Some of items that utilize this unique design element include gift card holders, bookmarks, clothing tags, business cards, wedding invitations, greeting cards, promotional displays, brochures, boxes and other product packaging.
Though die cutting can produce unique results, it's not for every print job.  This is why it's not very commonly used, and why it can be so distinctive.  Paper stocks that are thinner than a cover/card stock do not hold up well to die-cutting and are not recommended, because they tend to curl or get crushed edges under the pressure of a steel rule die. As long as the paper is heavier, there is really no limitation to the type of paper used.
Another challenge of precision die cutting is the exact "register" (position or line up) of the image with the die when orders are run digitally as opposed to a press. Digital printing does not hold exact "register" as presses do. Low quantities of 100 holiday cards or party invitations can be die cut after they are run digitally as long as the die cutting does not have to precisely register to an image. If it does have to precisely register, it should be printed on a press.
As the industry continues to embrace new die-cutting technology, you can count on the experts at Corcoran Printing to keep abreast of the latest printing techniques to enhance your design. Corcoran has hundreds of standard dies in house for everything from pocket folders to room key card holders. For more information on our die cutting services, call 1-800-564-0085 or visit the http://corcoranprinting.com/printing/die-cut-printing.