Printed Retail Display Packaging that Saves you Time
Leaving the printed retail display packaging to the experts could save you time, allowing you to focus on growing your business!
We don't usually think of all that goes into running a small business but it definitely takes intense passion and commitment.
Small business owners have to be a jack of all trades (product designer, marketing, accountant, sales, web designer, etc.) just to get one off the ground! The lists of priorities and 'must-do' tasks are endless.
Still, people are always finding their passion to beat the odds, and that's what we love about working with up and coming companies like All Up in the Hair.
All Up in the Hair (FB) (Insta) owner Heather Ash was filling all those roles and more to keep her jewelry business growing…while still hand cutting and assembling tens of thousands of jewelry cards for product packaging by herself!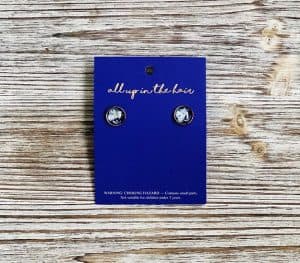 How's that for commitment and focus?
Well, while it does take focus, what it also takes is time.
We're thrilled that we were able to help with their foil stamped retail display packaging so Heather could re-focus more of her time back into growing her business.
Check out some of her beautiful products. They'd make a great gift for someone special in your life!
Featured:
Earring, Bobby Pin, & Scrunchie Packaging with drilling / die cutting / foil stamping
Did you know?
We have hundreds of foil colors; even textures & holographic foils
We have standard sizes / dies / materials to get you started, or we can create something more intricate to suit your brand
We can die cut any shape
We're happy to scale with your business needs
Curious about retail display packaging options for your small business?
We'd love to save you time too!