Statement jewelry says a lot about the person wearing it. But what about the jewelry designer? We all have something important we want to say. Make a bigger impact with your jewelry designs using custom printed jewelry tags. Put your personal message and branding right on a customized printed jewelry card. Make a statement. Be bold with a shiny metallic foil earring card or necklace display card. Corcoran Printing can assist you. We provide printed jewelry packaging ideas for your one of a kind designs.
Jewelry packaging as special as the piece it holds
We can help you better display your jewelry collection. From alluring foil-stamped hanging jewelry cards to embossed bracelet cards and die-cut earring cards. Personalized messaging on jewelry cards will enable customers to learn more about you and your products. Build that personal connection with a buyer. A customized jewelry card can help you do just that. Printed jewelry hang tags can showcase exactly what makes your jewelry unique.  Yes, people do want to know. If they love your jewelry, they'll want to learn the inspiration behind each piece.
Printed jewelry tags & jewelry packaging
Foil stamped jewelry display cards
Custom printed hanging jewelry cards
Earring display cards
Printed fashion jewelry tags
Foil printed earring cards
Luxury jewelry hanging cards
Jewelry rack cards
Hanging necklace cards
Embossed jewelry cards
Printed bracelet cards
Die-cut jewelry hang tags
Jewelry box insert cards
Foil Stamped Hanging Jewelry Cards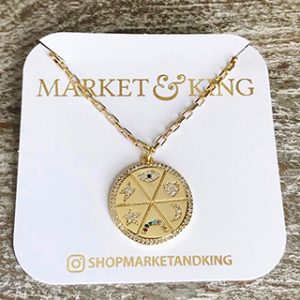 Dazzle the eye of any shopper with a shiny metallic foil hangtag. One that's been custom printed especially for your jewelry collection. Even a hint of foil can enhance the look of any jewelry card design. Print information about your product and your brand right on the tag. Have a special message about a particular piece? Print that on the card as well. You'll provide even more meaning to the buyer. Elevate your brand by investing in customized printed jewelry cards. Printed jewelry tags can be as distinct as your products.
Special jewelry packaging for special products
Packaging can be an important part of the overall product experience. This is especially true when purchasing something online. We all enjoy opening up special packages when they arrive. Opening a box to find a lovely piece of jewelry accompanied by an elegant foil-stamped jewelry card. That's special. It really makes that important statement you're looking for. A fold-over jewelry card or a trifold jewelry card can act as a mini brochure. An intimate glimpse into your unique jewelry line. Use a jewelry tag or card to give someone a sneak peek at a few other items you think they'd enjoy. Make the experience even more memorable for the recipient. It's as easy as customizing an elegant embossed jewelry card. It is sure to stand out and get noticed. With the right message, it may even help build stronger loyalty to your brand.
Paper stock for printed jewelry tags, earring cards, necklace cards & bracelet cards
Don't overlook paper stock when purchasing a custom-printed jewelry display card. We can suggest and supply a variety of luxury card stock options, paper lines, and finishes. We have the stock to fit your specific product needs. This can include choices such as Classic Crest or Reich Shine. Strathmore, Invercote or Nina Stardream are other popular options. Speak to a jewelry card print expert at Corcoran Printing for more information. We are a recognized leader in jewelry packaging. This includes printed jewelry cards and custom printed hang tags.
Contact a jewelry card printer
Just as statement jewelry can elevate the look of the wearer, so can a printed statement jewelry card elevate the look of a product. Don't put your extraordinary jewelry collection on an ordinary jewelry card. Contact Corcoran Printing today. We would be happy to discuss creative jewelry display solutions to better highlight your products. Tap to learn more about printed jewelry packaging.