Nothing entices a consumer more than a beautifully wrapped chocolate bar. Professionally printed chocolate bar wrappers and printed candy bar sleeves ensure an experience that's a feast for the eyes as well as the palate. There's no better way to draw attention to your luxury chocolate brand. Custom printed branded chocolate bar packaging will attract much more interest on crowded retail shelves. What better way to sell chocolate bars.
Printed chocolate bar wrappers that appetite with mouthwatering designs
We all like to treat ourselves and a little luxury goes a long way. Chocolate is a guilty, yet affordable pleasure for many consumers. It's also a favorite gift to both give and receive. The finest chocolate deserves the finest packaging. This goes for a luxury chocolate bar. Capture the eye with a beautifully packaged bar with a custom printed chocolate bar envelope or printed candy bar sleeve. Your custom confections deserve custom chocolate bar packaging. Highlight the quality of your product with professionally printed chocolate bar wrappers, chocolate bar sleeves or printed chocolate bar envelopes.
Superior quality chocolate deserves superior custom printed candy bar wrappers
It's all about attention to detail. As a specialty candy company, you've invested so much time and energy into every little detail. Now it's time to showcase decadent chocolate bars and other products. You've carefully planned every little ingredient and researched flavor profiles. Doesn't your chocolate bar packaging print and candy packaging deserve that same attention to detail? It absolutely does! Consider the simple use of clean design lines and a pop of color. Perhaps the more luxurious look of embossed or foil stamped chocolate bar wrappers. Whatever your preference, it's that attention to detail that will make your brand stand out.
Printed chocolate bar wrappers & custom printed candy packaging
Here is just a sampling of the professionally printed chocolate candy packaging you can get at Corcoran Printing.
Custom printed candy bar labels
Candy bar packaging sleeves
Chocolate bar sleeves
Printed chocolate bar wrappers
Chocolate Bar packaging
Custom printed chocolate bar envelopes
Custom printed chocolate bar display boxes
Printed chocolate bar packaging
Printed candy bar boxes
Custom candy bar packaging
Chocolate bar box sleeves
Custom confectionery packaging
Hanging candy boxes
Custom candy bag headers
Die-cut chocolate bar packaging
Chocolate bar box with die-cut window
Gourmet chocolate packaging
Custom printed chocolate bar wrappers and sleeves take consumers on a delicious journey
One of our favorite chocolate brands is right in our own back yard. Locally owned Sugar Plum Chocolates truly understands the importance of professionally printed chocolate bar packaging. It is evident in the unique design and print of their custom chocolate bar wrappers, as well as their printed chocolate bar sleeves and custom designed and printed chocolate bar envelopes. Each Sugar Plum chocolate bar line is enhanced by its own unique printed chocolate bar packaging.
Corcoran Printing has enjoyed working with Sugar Plum on a printed chocolate bar packaging vision as unique as the delicious products inside. The packaging reflects the product and truly takes you on a journey. From the fun and playful colors of the unique carrot cake and candy cane printed chocolate bar envelopes to the more organic-looking chocolate bar wrappers of their Vegan chocolate bar line, or the dark and humorous candy bar wrappers of the Zombie Bar collection, you get an enticing tease as to the delectable treats inside.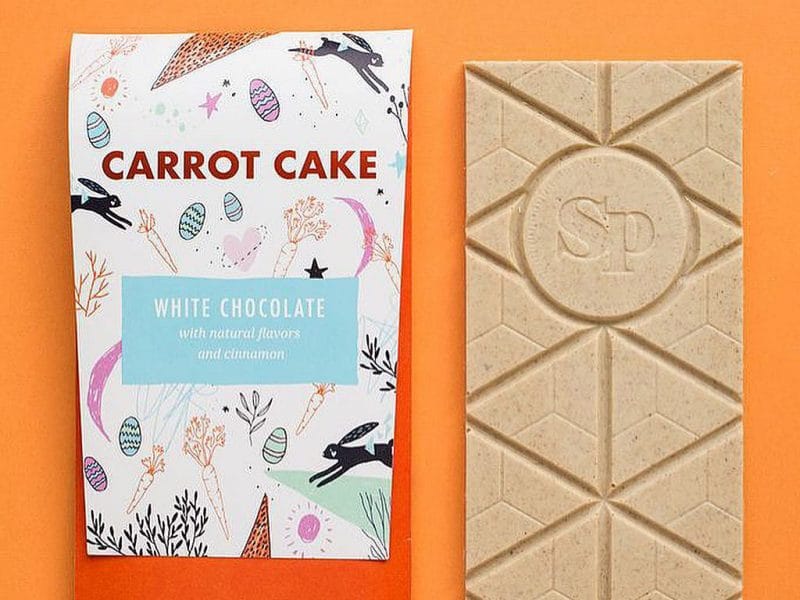 For attention-getting printed chocolate bar packaging contact Corcoran Printing
The quality of a passionate chocolate brand can be evident in its packaging. Let Corcoran Printing help you make your chocolate bar packaging vision a reality. We print the highest quality chocolate bar wrappers, chocolate bar sleeves, chocolate bar envelopes, and other specialty candy packaging. Learn more about our printed packing for luxury foods at Corcoran Printing.com or read another of our specialty food packaging blogs on our website.