You worked hard to attain that level of respect in your industry. Now maintaining your elite image is important.  After all, quality is the hallmark of your individual brand. Customized foil stamped stationery can be an expression of that brand. Foil stamped, embossed stationery and customized foil stamped note cards ensure eye-catching correspondence. Custom foil stamping can provide a rich, premier quality look to nearly any printed piece.
Foil printed corporate note cards
A personalized, handwritten note has become a lost art in an era of email and text. In this digital age, something as simple as a handwritten note on a customized notecard can help you develop a stronger connection with the recipient. You can stand out in a more authentic way with this personal touch. A hand-written note on a custom printed note card will not soon be forgotten by the recipient. You'll not only get noticed, but you will be remembered. That's an unmatched benefit to both your personal and corporate brand.
Imagine an elegant foil embossed logo on a  double-thick notecard. The elegant foil printed lines of your name on a stationery package can reflect your unique personal style. At Corcoran Printing, we specialize in customized foil printed stationery for CEOs in a variety of industries. This includes executives in wealth management, investment firms, and hedge funds. We've also custom printed stationery for family trusts, government entities, healthcare and more. Finally, we customize note cards and foil stamped executive stationery for celebrities and individuals who are focused on personal branding.
Custom printed foil stamped stationery & executive stationery products
Embossed executive stationery
Printed executive note cards & matching envelopes
Foil stamped business fold over note cards
Foil stamped corporate stationery
Customized foil printed letterhead
Embossed letterhead & note cards
Custom printed business stationery
Foil stamped business envelopes
Personalized double-thick executive flat note cards
CEO & corporate stationery packages
Foil stamped business cards
Customized business stationery to match your style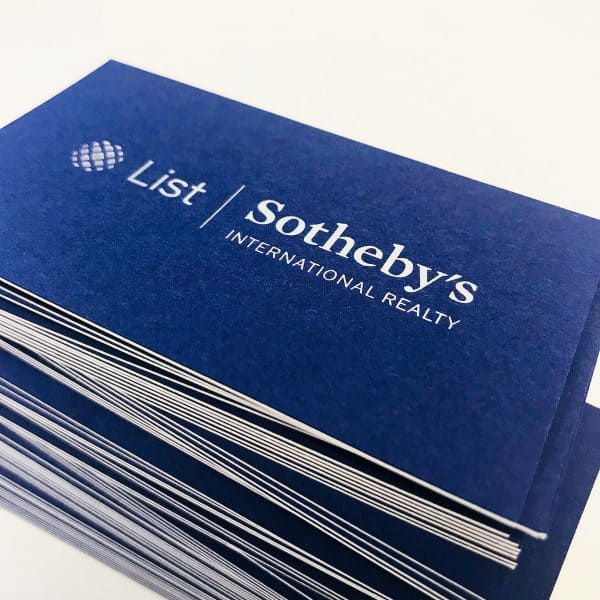 A consistent, trusted brand is one of the keys to success in business. Carrying that brand image into your correspondence with clients and others is important. Your letterhead and note cards are a representation of your personal brand.
We specialize in custom stationery for executives and businesses. Corcoran Printing provides a large selection of luxurious stock options and paper weights. We have many paper options for custom printed note cards, letterhead, and envelopes. Foil stamp print and embossing will truly enhance the look and feel of any corporate stationery. Our goal is to incorporate your personal or corporate brand into the finished printed piece. Foil stamping and embossing can help accomplish that goal. Embossing and Foil stamping can be used with nearly any quality paper stocks. Almost any corporate stationery can be enhanced through the use of foil stamping . The end result will be an elegant, eye-catching three-dimensional look. Let us help you create this high-quality appearance that increases your perceived brand value.
Increase brand perception with foil stamp stationery, printed letterhead, and note cards
Corcoran Printing is a one-stop-shop for all of your custom business stationery needs. Give your personal and formal correspondence the look of class they deserve with custom foil stamp print. Our design and print team can help you select the right personalized stationery look for your brand. At Corcoran Printing, we take pride in our state-of-the-art print facility and equipment. Other printers outsource foil stamping, but we produce all of our foil stamp and emboss print projects right in-house. We realize the importance of reputation and brand to a long and successful run in business. Corcoran Printing is proud to be celebrating 80 years as a Pennsylvania family-owned business.
If you're looking for impeccable quality for your corporate correspondence, contact Corcoran Printing today. Learn more about our foil-stamped print products online.