Custom greeting cards and invitations have made a significant resurgence in the past few years. Notably, text or email greetings and invites are just not cutting it anymore. While larger greeting card companies may be experiencing declines in business, smaller, craft card businesses are emerging. These specialty card companies are making a splash among younger consumers looking for a more distinctive product. They understand a greeting card is a great way to send happiness someone's way, and who doesn't need a little joy sent their way?
A perfect example of this is the growing popularity of Ben's Garden. Ben's is a business that focuses on specially designed paper greeting cards, gift cards, invitations, gifts, and more. Ben
Busko's passion for art came out on paper in beautiful imagery and a stunning color palette. His designs have gained many fans including celebrities such as Oprah, Martha Stewart, and Lady Gaga. Ben's cards have been featured in publications including InStyle, Vogue, RealSimple, O The Oprah Magazine, and more.
Shimmering foil greeting cards & foil invitations
The Ben's Garden custom greeting cards feature designs that sparkle with gold foil and messages that tugs at your heart. Ben's Garden called upon Corcoran Printing to accomplish the foil print expertise fitting their heartfelt greeting card messages and dazzling designs. Whether it's a rose gold foil card matched with a coral polka dot envelope lining, or a shimmering gold foil print card with a matching pin-striped envelope, this greeting cards line is ideal for everything from acknowledging a special occasion to an impromptu note to brighten a day. 
High-quality paper for greeting cards and invitations
Selecting the right paper stock is necessary for accomplishing the standout card look and feel you desire. Choose gloss paper for a shine or matte paper for a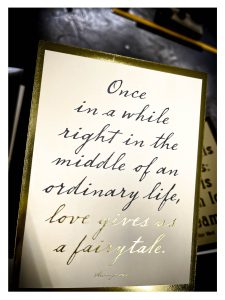 soft and subtle look. A 100 lb. gloss cover is always a popular choice, while a heavier matte can give you a sturdier, more natural look. Corcoran can print cards on a thickness of up to 20 pt. card stock and also has double-thick card expertise.
Die-Cut custom greeting cards & invitations 
Printed greeting cards and custom invitations can be die-cut to any size and shape. They can be folded or flat. This might include a postcard size card, a standard 10" X 7" flat that folds to a 5" X 7 ", an 8" X 6" flat that folds to 4" X 6", or any custom size you desire. Custom branded greeting cards are a perfect way to acknowledge birthdays and special occasions, express sympathies, or as a thank you. Indeed, custom printing your own specially designed greeting cards,  invitations, or announcements will enable you to brand them to your corporate needs. 
Foil-stamped greeting cards & invitations
Whether it's a graduation invitation, a party invitation, or a celebratory greeting card, gold foil or any shimmery foil can draw attention to the most important details. Similarly, embossing your invitation or greeting card can add a texture that enchants the recipient. Foil and emboss specialty print against a dark background are a beautifully subtle way to add elegance and sophistication to any invitation or card.
Custom graduation announcements
Graduation is a once-in-a-lifetime event. Therefore, you want a special invitation and announcement to mark this momentous occasion. Our print experts can help you celebrate the big day in style with a custom graduation announcement and invitation. Tap to learn more about our foil stamp and embossing services.
Custom printed cards
Custom Greeting cards
Foil embossed Invitations
Graduation Announcements
Commencement Announcements
New Business Announcements
Thank you cards
Custom note cards
Custom printed postcards
Die-cut cards
Name cards
Custom stationery cards
Header cards
Holiday cards
Custom wedding invitations
Event invitations
Ensure your custom greeting cards, foil-embossed invitations, and custom announcements are printed professionally with the help of the print professionals at Corcoran Printing. We can provide the specialty print expertise you need to ensure an impressive card that will get attention. Contact Corcoran Printing today.
Tap to read our blog showcasing "Custom Printed Announcements for Colleges & Universities."